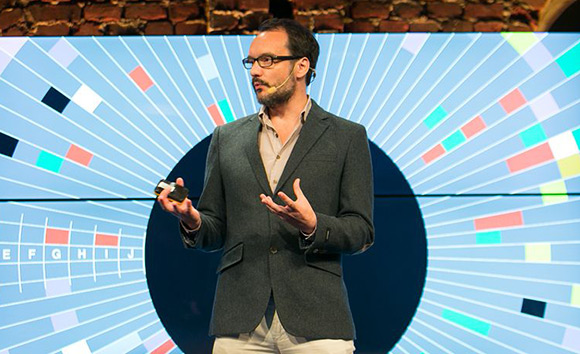 Photo Credit: Rikard Westman
Feel free to contact Ruth @ Information is Beautiful if you'd like to discuss a talk, keynote presentation or workshop.
I speak about data, information & knowledge, creativity, analysis, story-telling, the art & utility of data-visualisation, infographics & concept mapping as it spreads across business, tech, science, communications, politics and culture. My talk is constantly evolving as I fold in new material and make new discoveries.
Please note: Due to a busy schedule, I am no longer able to speak for free. Sorry.
Typically, I need about two – three months notice to schedule an appearance.
2014
Dec 10th – The RSA – Royal Society for the encouragement of Arts, Manufactures and Commerce – London
Dec 4th – Bookomi Breakfast Club – London
Nov 26th – Canon client conference – Dusseldorf
Nov 19th – Royal Statistics Society – London
Nov 18th – Private company talk – London
Nov 13th – Creative Review Festival of Marketing
Nov 12th – Information is Beautiful Awards
Nov 10th – Guardian – London – buy tickets
Nov 6th – Channel 4 – London
Nov 3rd – London College of Communication – London
Oct 23rd – HR Tech conference – Amsterdam
Sep 10th – Private company talk – London
Jul 16th – Private company talk – London
Jul 3rd – Canon conference – London
Jun 10th – Private company keynote – Istanbul
Jun 4th – Market Insights forum – London
May 15th – Brighton Festival – An evening with… – Brighton (PUBLIC – 1200 people!)
May 13th – Shared Services conference keynote – Dublin
May 9th – PASS keynote – San Jose
Apr 10th – Kantar workshops – New York
Mar 21st – Beautiful Science @ British Library – London (PUBLIC)
Mar 12th – IQPC conference – Orlando, USA
Feb 12th – Lost Lectures @ Selfridges – London (PUBLIC)
Jan 16th – Informa Business Conference – London
Jan 9th – Private Company talk – London
2013
I reduced my commitments this year to write my next book.
Nov 20th – Information is Beautiful Awards (hosting) – London
Nov 13th – Business of APIs – London
Nov 6th – DMDQ Keynote – London
Oct 24th – Stilbo Conference – London
Oct 23rd – Private company talk – Brighton, London
Oct 2nd – Private company talk – Amsterdam
Sep 29th – FutureFest – Shoreditch, London
Sep 18th – Outdoor Works – British Museum, London
Sep 10th – Webdagene – Oslo
Sep 9th – Grid 2013 – Stockholm
Sep 6th – Circle of European Communicators – Istanbul
Jul 22nd – Private company talk – London
Jul 8th – Kantar workshop – San Francisco
Jun 20th – SummerCon Conference – Ann Arbour, MI
Apr – May – break to write book
Mar 7th – Acxiom keynote @ Guggenheim Museum, New York (shared the bill with Nate Silver & President Bill Clinton!)
Mar 1st – V&A Museum – London
Feb 14th – Microsoft – Paris Keynote
2012
Nov 30th – The Lost Lectures – London
Nov 7th – Kantar workshop – New York
Sep 12th – Kantar workshop – London
Sep 6th – Pearson Data Summit – London
Jul 4th – Kantar workshop – Barcelona
Jun 4th – Private Company lecture – Stockholm, Sweden
May 24th – Google Event – London
May 14th – Private Company conference – Las Vegas
May 3rd – Kantar Workshop – London
Apr 12th – Private Company keynote – Austin, Texas
Mar 17th – Salon Du Livre bookfair – Paris
Feb 21st – DEFRA workshop – London
2011
Dec 15th – Accounting for Sustainability – St James Palace, London
Dec 1st – ACTE Keynote – Venice
Nov 17th – Wellcome Trust – London
Nov 12th – GE's Visualizing Marathon – London
Nov 11th – Last Binary Date – Battersea Power Station, London
Oct 26th – Kantar workshop – New York
Oct 19th – BazaarVoice Conference – London
Oct 3rd – ACTE Conference – Paris
Sep 30th – Swiss Miss Creative Breakfast – London
Sep 21st – ESOMAR Keynote – Amsterdam
July 22nd – Secret Garden Party – Cambridgeshire, UK
June 30th – Editorial Design Org – London
June 15th – Keynote for SAS Europe – Antwerp
Jun 14th – Visualizing Europe – Brussels
Jun 9th – OFFF Festival – Barcelona
Mar 20th – Malofiej – Spain
Mar 17th – Telefonica Fundacion – Madrid
Mar 8th – Bill & Melinda Gates Distinguished Lecture – Cambridge University
Feb 14th – Webstock 2011 – New Zealand – talk and workshop – link
Jan 28th – Design Of Understanding St Brides, London
Jan 11th – Learning Without Frontiers – London
2010
Dec 14th – Channel4: Network Nation – London
Nov 18th – EDesign! – Estonia
Nov 12th – OneDotZero Protein Forum NFT, London
Nov 5th – L2ThinkTank – Morgan Library, New York
Oct 13th – Design By Fire 2010 – Amsterdam – keynote
Sep 23rd – HM Treasury Seminar – London
Sep 21st – Data Skills & Techniques for Journalists – London – link
Sep 21st – Ad:tech – London – link
Sep 3rd – D:Construct 2010 – Brighton UK – link
July 28th – Google India Hack Day – Bangalore – part of the Prime Ministers trade delegation to India – link
July 24th – Port Elliot Festival – Cornwall – with Keith Albarn & James Bridle – link
July 21st – BBC Media Centre – London – talk to BBC program makers
July 13th – Ted Global 2010: Oxford – link
July 9th – Centre for Investigative Journalism Summer School
Jun 21st – University of Delaware, London
Jun 24th – UBS – London – Creative Workshop
Jun 16th – Google Jam – Data Viz Quiz – link
Jun 18th – Prime Minister's Strategy Unit – London
May 12th – iMedia Summit – Brighton
Apr 22nd – International Journalism Festival, Perugia
Apr 31st – Albion – lunchtime talk
Mar 21st – 180 – Amsterdam (agency)
Mar 19th – Government Creative Network, Cabinet Office, London – with Michael Wolff
Mar 18th – London School Of Economics – Media CSR panel discussions
Mar 11th – London College Of Communication – presentation & workshop
Mar 10th – Google UK
Mar 4th – Namur Art College, Belgium – presentation & workshop
Mar 1st – Oxford University -St Anne's College
Feb 25th – BBC Worldwide
Feb 11th – AHO Norway – talk & workshop – link
Feb 4th – Information Is Beautiful book launch – Dataviz Quiz
Jan 29th – Guardian / Government Hack Day
Jan 19th – Wellcome Trust – London
2009
Dec 21st – Mindshare, London – talk
Dec 15th – Barracuda, London – talk
Dec 3rd – Webby Awards Gala, London – Dataviz Quiz
Nov 22nd – TEDx Brussels – link
Oct 26th – Media 140 London